We've been working on something big and we're excited to finally share it with you! The event page has been completely overhauled with the intention of bringing quicker access and a greater focus to the elements most important to your events.
Administrators will see a notification when they log in to Resources where they can opt in early to the new event page. Then we'll begin a slow roll-out with the goal of having everyone swapped over by early February. It's also worth noting that this change will affect your entire organization and there is no going back to the old event page once the upgrade is applied.
Let's take a peek at some of the areas receiving changes.
A Change to Reservation Blocks
First, let's talk about a pretty major change to how events are structured.
This term may sound like jibberish to some of you, but long-time Resources users will be familiar with the term "reservation block." Essentially, it is the ability to add multiple related events under the umbrella of a parent event. Think of the top-level being "Sunday Service" containing separate dates and times for a weeknight band rehearsal as well as most of Sunday.
As Resources continues to expand its focus to include both resource and event management we decided to not allow adding additional reservation blocks to an event. This decision will simplify the interface and pave the way for upcoming features, but please know it was made with much research and consideration.
One way to achieve a similar result would be to use the "Duplicate" button to create an identical event with its own start/end dates and recurrence patterns. The tags, schedule, and resource bookings will all come over but now you can customize it independently.
I'm going to move ahead to the shiny new features but you can read about the reasoning behind this change at the end of the article.
More Information at a Glance
The event schedule paired with resource bookings is the magic sauce that brings order to the chaos of event management. Previously, this information was two to three pages deep into the event page, but now it's front-and-center!
Other event information is still there but tucked neatly into tabs. For example, the event activity feed can be found by accessing the "Activity" tab. While it's functionality remains unchanged, it got a visual upgrade! "Details" houses the description, internal notes, and file uploads for your event as well.
We've also made it much quicker to scan through specific room and resource information. Expand an item to see all kinds of juicy details.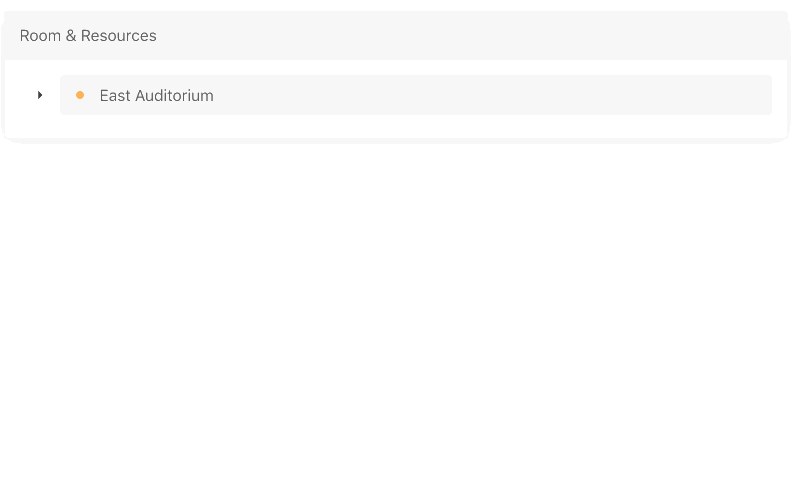 Room & Resource Booking
If you're a frequent Resources user and already know exactly what you need for this event you can hop into a room or resource field and start typing. You'll be prompted with a list that you can navigate with the arrow keys on your keyboard. Highlight the thing you're looking for, press enter, and you can continue typing to start the process again.
🔫Pew! Pew! Laser-fast booking without ever leaving the keyboard!
If you can't remember the exact name of something or stink at spelling (like myself) simply click on the Browse button to navigate your folders and track down exactly what you need.
Schedules and Calendars and Kiosks, Oh My!
The schedule is largely the same as it was before, but with some sweet visual tweaks to make it more understandable. It's easy to quickly see which schedule items will be present on shared feeds versus the kiosk. You can also choose to leave staff-facing/internal schedule items hidden from either of those views so only folks using Resources can see them (ex: setup/teardown).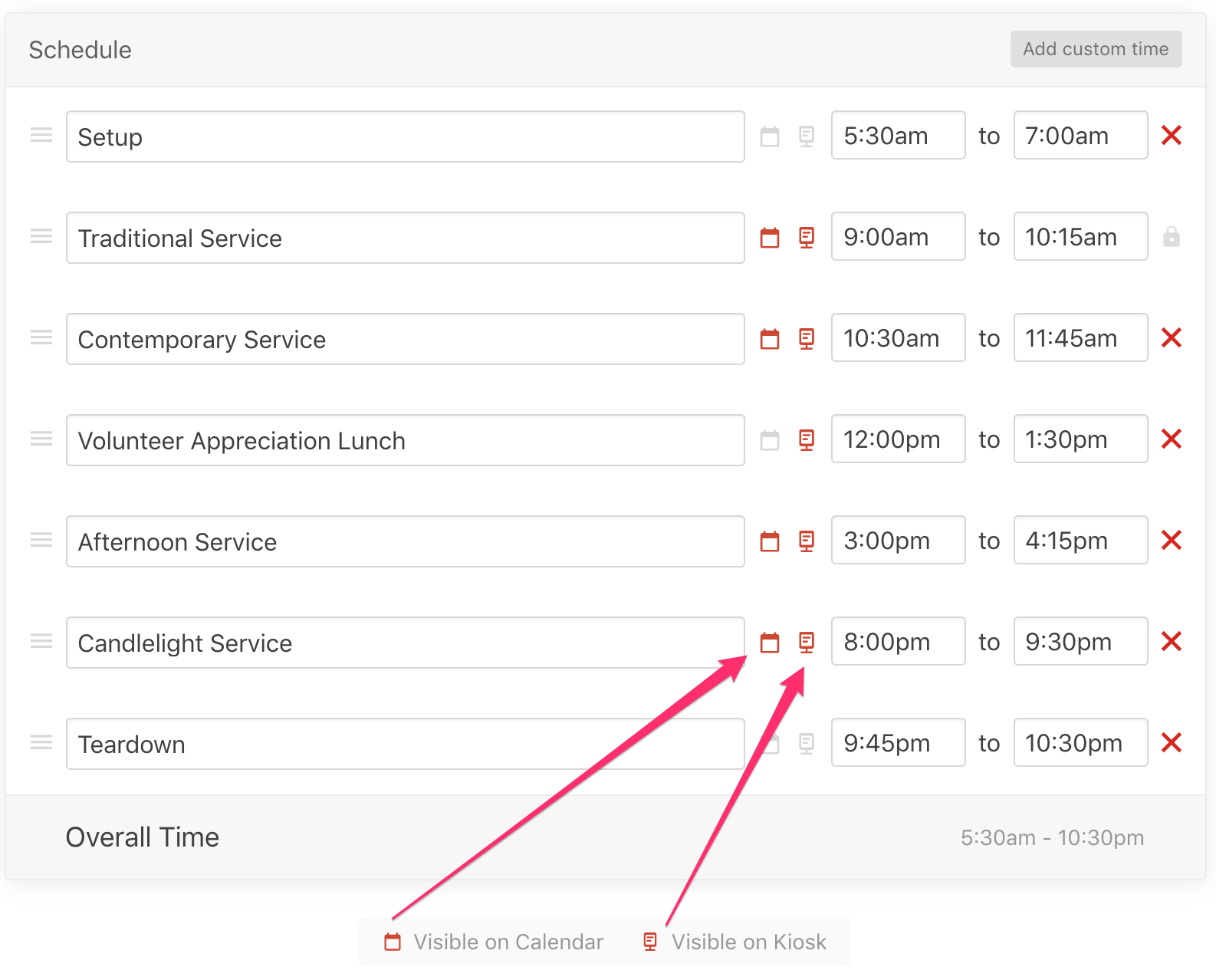 Are You Sure?
There's a lot that goes into event management and it's totally possible to make a slew of changes only to ask yourself... wait, what did I just do? We've implemented a final step before sending approval requests where you can see exactly what changed from the time you started editing the event.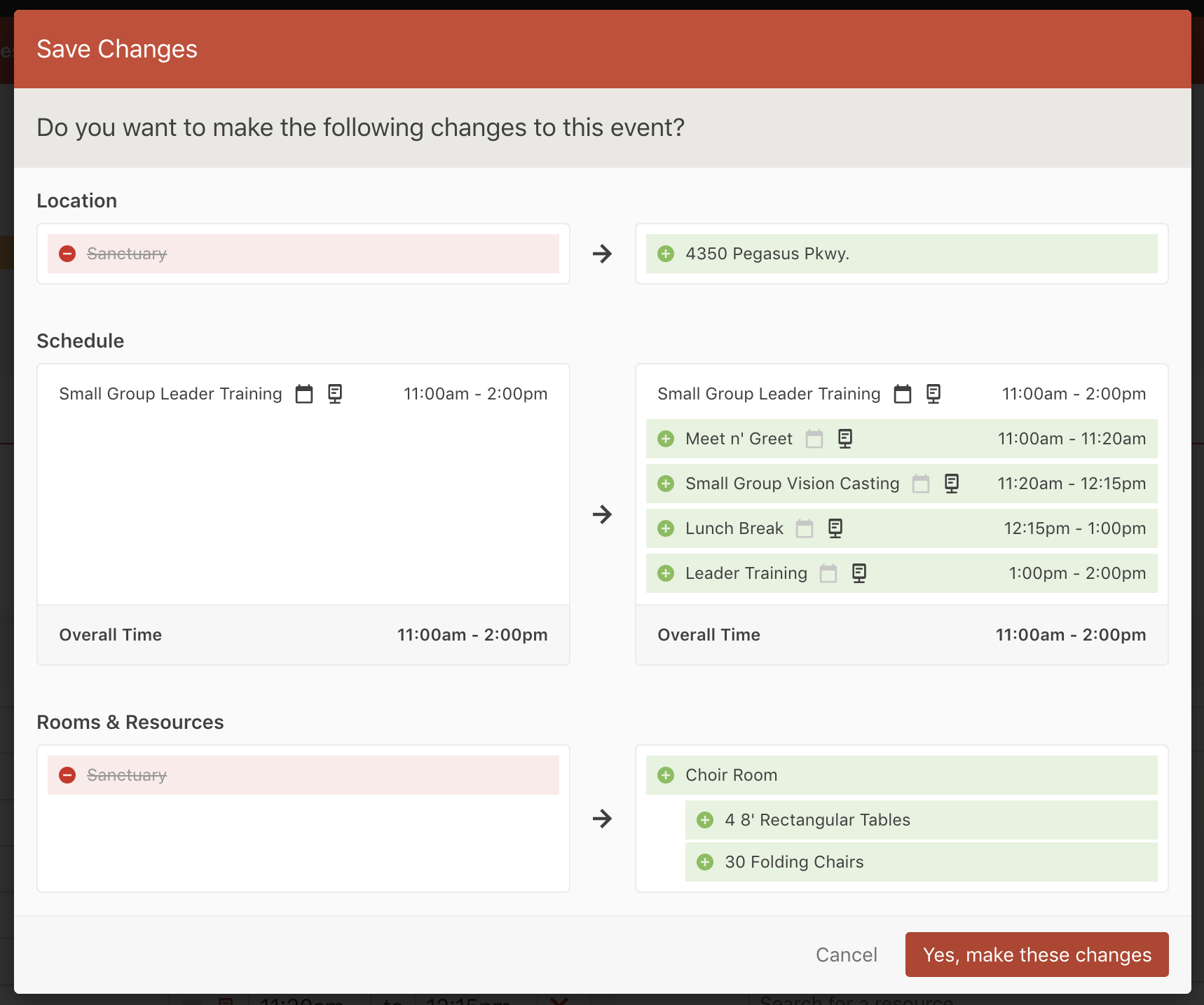 Previously in Resources, there was a 30-minute window where we would wait to send out approval requests because we didn't have a good way to tell if you were done inputting information. This timer did occasionally come in handy but could also create confusion. Specifically, we would see questions like "Why have my booking requests not been sent yet?" or folks who were looking for immediate action to be taken.
The benefits of this confirmation step are twofold: a visual safety-net to sanity check you before you make the changes and a point of action where we can immediately fire off those approval requests. No more 30-minute cooldown. Win/win!
On the Removal of Multiple Reservation Blocks
While using multiple reservation blocks was useful in some situations, it complicated the interface in a way that forced us to bury schedule items and resource booking information which is exactly what we wanted to counter with redesigning the event page. It was also a feature that could potentially negate the benefits of other key features of Resources.
Some users would create parent events like "School" or "Daycare" which would house dozens of classroom schedules, meetings, and various other seemingly related events. But the truth is, these were usually unique events with different needs. When using the multi-reservation block approach, it appeared as though they were all using the exact same resources and were all categorized with the same tags which made locating, sharing, and organizing your events wildly inefficient. Not to mention how convoluted reporting could become.
Additionally, through support tickets, surveys, and user interviews, it became clear that the concept itself of a multi-reservation block event was confusing to new and casual Resources users. This paired with the aforementioned reasons made it clear this was the choice we had to make.
We understand that this can be a big change to your workflow but want you to know that it was intentional and moves us in a direction that will help Resources be accessible to a larger audience while opening the door for many incredibly useful features down the road.
Let's Go
As always, we'd love to hear your feedback especially in this time of change so drop us a line in Slack! We've been working on this for a while, but it is a rather large update so send in a support ticket if you hit a problem or want to request a feature that would help you out. And if you've made it this far here's a quick walkthrough video I made specifically for our beta testers.
Team Resources,
Gabi, Kayla, Greg, Taylor, Jesse, Nick, and Evan